Szukasz strojów z własny projektem? Odwiedź sekcję "ubierz drużynę".
Back

Women

T-shirty

T-shirty

T-shirty

T-shirty

T-shirty

T-shirty

T-shirty

Men

T-shirty

T-shirty

T-shirty

T-shirty

T-shirty

T-shirty

T-shirty

Kids

Akcesoria

Kominy termoaktywne

Kominy termoaktywne

Kominy termoaktywne

Collections

Kocham Góry

Kocham Góry

Jerzy Kukuczka

Perły Małopolski

Kocham Góry

Kocham Góry

7 happy summits

Kocham Góry

Kocham Góry

Kocham Góry

Kocham Góry

Custom sportswear

Running

Running

Football

Accessories

Custom Team T-Shirts

Custom team sweats

Pricing

How to order?

Design

Order samples

Recommendations

Send inquiry
Bądź Wielki
PLN99.00

UWAGA!
Każdy produkt szyjemy specjalnie dla Ciebie tuż po zamówieniu. Dlatego zamówienia realizujemy w ok. 15 dni roboczych. Nie dotyczy to voucherów podarunkowych oraz zamówień z outletu, które wysyłamy w 24 godziny po zamówieniu. Find out more
Brief product description
Breathable women's sports shirt intended for any type of physical activity. Ideal for a trip to the mountains, a workout or a family walk. The sporty cut allows for free movement whereas the heat-sealed tag won't scratch. You can now pick the material we sew your t-shirt from based on your preference.
See full description
KOALON010000010W000200010
Data sheet
Styles

Women's sports t-shirt

Product

T-Shirt

Collection

Jerzy Kukuczka

Sex

Woman

Designs

Mountains

Designs

Printed
Chcesz zamówić taki produkt z własnym projektem dla drużyny, klubu czy firmy? Napisz do nas. Przygotujemy bezpłatny projekt graficzny, wycenimy i przeprowadzimy przez całe zamówienie.
Wyślij zapytanie o własny projekt
Other products with this design
Which fabric to choose?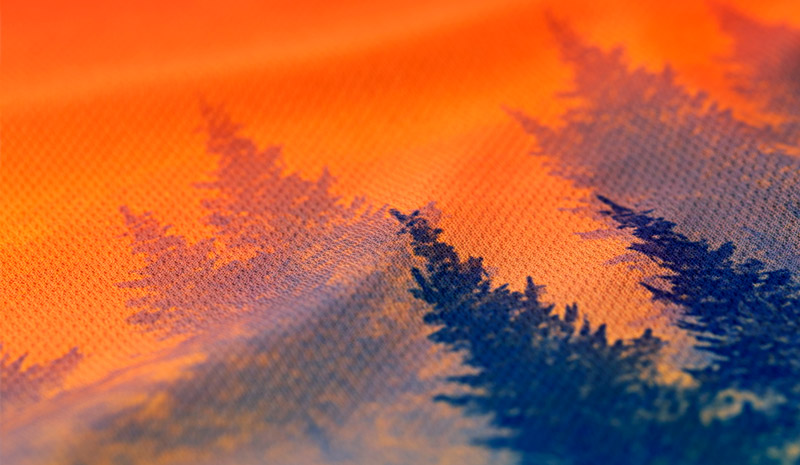 ALL-ACTIVE™
Universal sports fabric produced in Poland and made of 100% polyester. Thanks to a special fibre structure it is breathable and effectively wicks moisture away from the body. Its basis weight of 135 g/m2 makes the material robust and resistant to abrasion, but it is also slightly thicker because of that. Recommended activities: mountain backpacking, daily walks, jogging in cooler weather, cycling, working in the garden, barbecuing and camping :). The material is not only suitable for sports activities but also for everyday wear.
ULTRA-LIGHT™
The super lightweight 80 g/m2 sports fabric provides the highest level of breathability. It is pleasant to the touch and airy. It is manufactured in Poland from 100% polyester. Due to its basis weight, it is also softer and prone to pulling, especially when using your backpack (of course it is suitable for backpacking trips, but after a dozen or so uses, small pulls may appear). Recommended activities: running (even on hot days), nordic walking, gym and fitness, cycling and all sports that cause intense sweating.
Our t-shirts work well for sports
and everyday activities.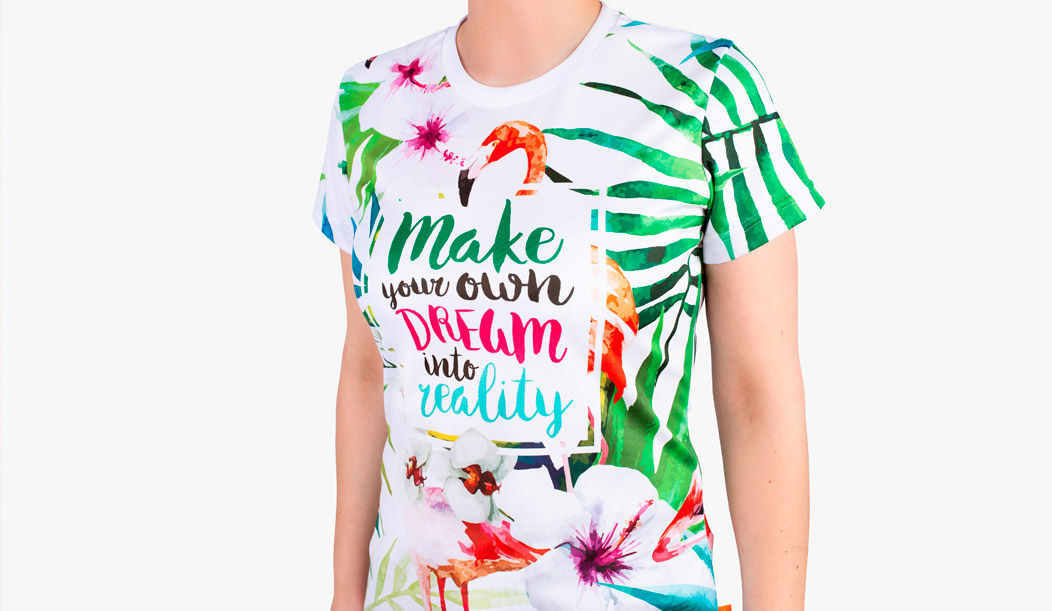 Comfortable and sporty cuts
The cut of the t-shirt is comfortably fitted to the figure. A women's cut and men's cut are available. For men it is classic, straight, while for women it is clearly waisted, so it emphasizes the figure nicely and fits well when worn. The neck tag is not sewn on but printed so it doesn't scratch.
Beautiful and durable full-surface prints
Not only do the Power Canvas shirts have technical features, but they also look great. Vivid and crisp prints cover the entire surface of the shirts. They are durable and do not affect the breathability of the shirts in any way.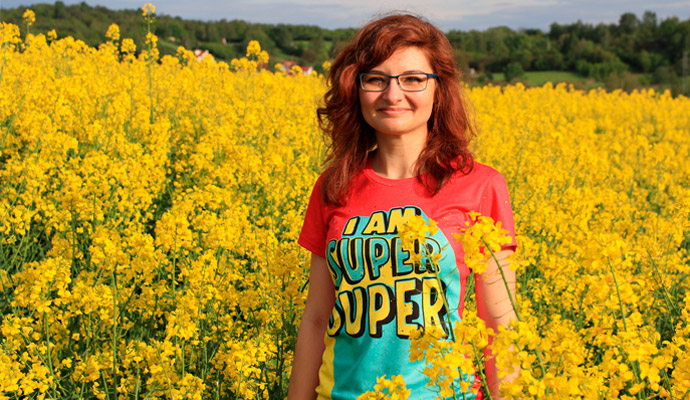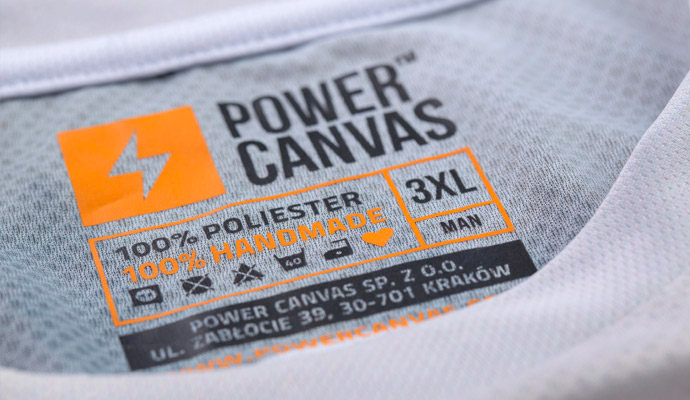 Printed tags that don't scratch
Neck tags are not sewn on but hot-sealed so they don't scratch.
Size chart
The dimensions in the table below are measurements of the clothes laying flat. To make sure that you order the right size, it is worth taking an equivalent of the ordered product from your cabinet, measure all dimensions flat and compare with the table.
| [cm] | XS | S | M | L | XL | 2XL | 3XL |
| --- | --- | --- | --- | --- | --- | --- | --- |
| Chest | 40,5 | 42,5 | 45 | 47 | 50 | 53 | 56 |
| Waist | 35,5 | 37,5 | 39,5 | 41,5 | 44,5 | 47,5 | 50,5 |
| Hips | 41 | 43 | 45 | 48 | 50 | 53 | 56 |
| Height | 61 | 63 | 65 | 66 | 67 | 68 | 70 |
Sizes may vary by +/- 1 cm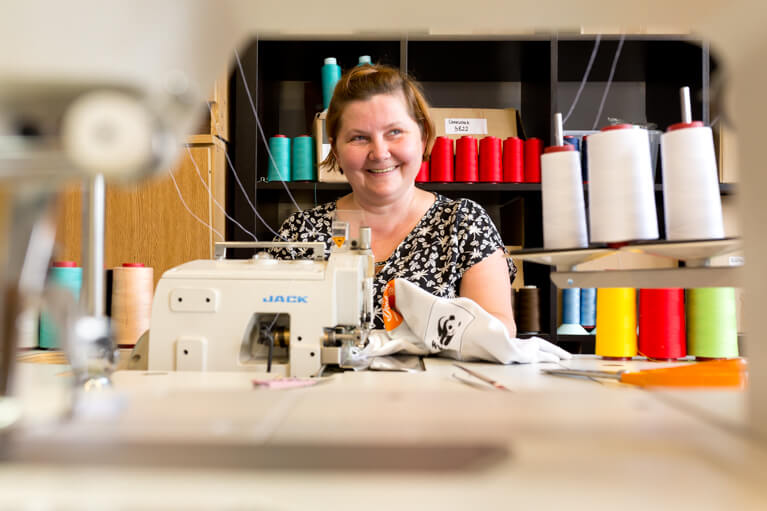 All products are produced in Poland.
In the heart of Krakow, our beloved seamstresses sew the most beautiful activity clothes especially for you! All materials we use come from Lodz and have the required approvals for contact with the skin during your activities. Add to that the unique design and friendly atmosphere at our place and you will see that it is worth it. So...
Get to know us!